Olajuwon Joseph Olumide: A Note to Destiny

Eboquills, 2 years ago
0
2 min

read
1421
Obianuju,
My oracle says I should find purpose before partner. How shortsighted mysteries can still be. Even mysteries cannot fully demystify this epiphany that I will be. Before I begin to learn the fatherly lore of earthly wisdom & philosophies, somehow I had known who I'd be. In my belly is a book that maps out my act every day. How do I tell this oracle, my purpose won't find expression till I find this partner? I mean she's my destiny. For how many more years will this purpose continue to ramble? I need a woman as I go hunting for my survival.
To you, Unjunwa, my destiny, our journey doesn't have to be smooth all the way. Dissents may punctuate our paths with potholes & pitfalls. But, those are our beautiful flaws. What matters most is that, after all the fights & more pitfalls, I can't complete another & you too would have a chasm within you. A sore. That only my stubborn self can heal. My face is innocent. But nay! I'm not cool. My epiphany shares mystery as life. – a two-sided coin. I'm an antithesis. Fiery but merciful. Smart but skeptical at some point. Boisterous but soulful. Agile in mortal frailty. Born on a ragged mat but within me are treasures untold. So, look for no perfectionist but I'm one in my surrealistic realism. I'm an idealist.
I know you must think I sound incongruent. And I can be. I know you too must be some sort of, and there lies my headache. Finding you is like poetry I must unknot. Till then, I'd be finding you my destiny. In the end, when I see you, you may initially doubt your Messiah for he comes for a manger. But do be quick in your discernment to know he's come to stay with you, completing your beautiful flaws forever.
Olajuwon Joseph Olumide is a graduate of Mass Communication from the Great Yabatech. He has won the Brigitte Poirson Poetry Prize thrice. A Soul Singer. Teaches English Language & Literature at Private College in Iyesi Ota. His writing has been featured on WRR, PIN journal , pengician.com, minute magazine & elsewhere.
Photo Credit: Pexel.com

Eboquills
EBOquills is a literary platform, which aside from promoting African Literature, seeks to be a clinic for creatives and a spa for stressed and distressed artists. We want to take hundreds of writers from the shadows and place them in the spotlight. Send us your best writings and pressing questions. Check out the services we offer, we look forward to working with you on your next writing project.
Related posts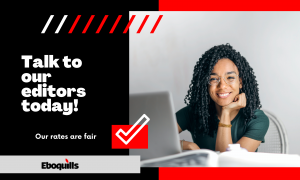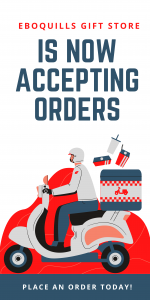 Facebook
What Is The Difference Between a Cover Letter and a Bio?
Preparing your work for submission to literary journals is sometimes scarier than the process of crafting those pieces of art. You are first faced with the challenge of selecting your best work ever from a pile of poems, if it is a poetry submission. Or you have to read, re-write and re-read your prose work before you send it out. Then almost immediately you have sufficiently edited your work, you are required to write a cover letter or/and a bio. What is the difference between a cover letter and a bio?
In this article, you will learn:
* Why writers write bios and cover letters
* What the difference between a bio and a cover letter is
* Examples of both and how to write each
eboquills.com/2020/05/27/what-is-the-difference-between-a-cover-letter-and-a-bio/
...

See More

See Less
Twitter
Our Writer Crush this Wednesday is Chidera Ihekereleome-Okorie!

She recently won first place in the Nigerian NewsDirect @NigNewsDirect Poetry Prize, 2020 and was appointed Poet Laureate

Congratulations to the amiable poet!

#WCW #WritingCommnunity #poets #writers #eboquills
"This body you see
was once a guesthouse to pain..."

Self- Portrait as a Body By Joshua Effiong

Ever had a poem touch your soul in all the right places? Read this poem by @JoshEffiong
https://eboquills.com/2021/04/13/one-poem-by-joshua-effiong/

#poetry #WritingCommunity #poem #eboquills
Have you been looking for opportunities to showcase your writing? We curated some free-to-enter #writing #contests you could enter this month of April!

https://eboquills.com/2021/04/03/writing-prizes-contests-to-enter-this-april/

#eboquills #aprildeadlines #WritingLife #WritingCommunity #writingcontest
Load More...