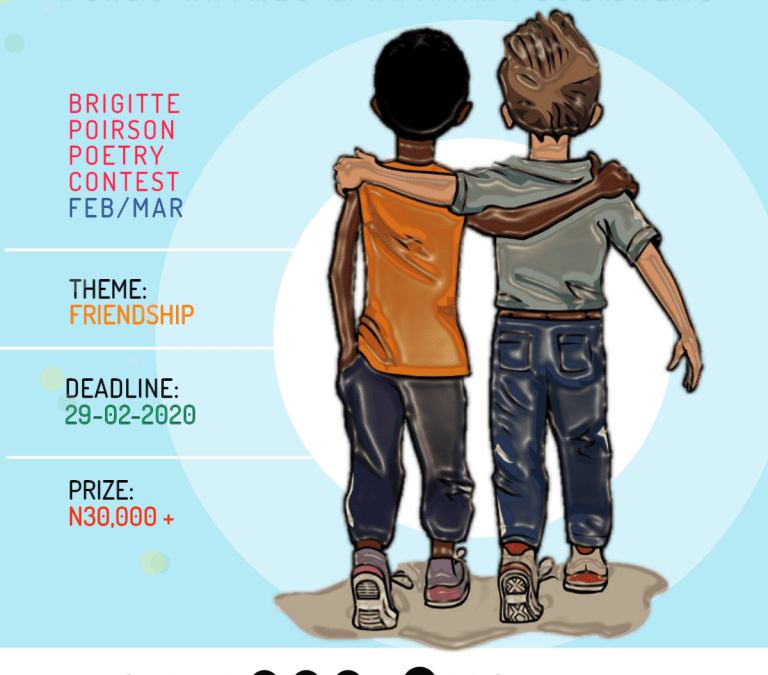 Enter Brigitte Poirson Poetry Contest, February/March, 2020 Edition
Eboquills, 3 years ago
0
2 min

read
971
Words Rhymes & Rhythm Publishers is now receiving entries for the
February-March 2020 edition of the BRIGITTE POIRSON POETRY CONTEST (BPPC). The theme is 'FRIENDSHIP'.
"Of a truth, there are very few things that we can really say have as much an impact on our happiness and enjoyment (or tolerance) of life as the friendships we create and maintain as we spend our time on earth."
What would judges be looking out for?
Originality,
Word economy,
Adherence to the theme,
Creativity in language and style,
And the use of literary devices in poems.
What are the prizes to be won?
There will be three winners: ₦15,000 (first prize), ₦10,000 (second prize) and ₦5,000 (third prize). The winners will also receive a certificate of award and a copy of the BPPC 2020 anthology
All top 10 poems will be automatically entered for the Albert Jungers Poetry Prize (AJPP) 2020
All top 30 poems will be published in the monthly BPPC chapbook
All top 10 poems will be published in the annual BPPC 2020 anthology
All top 10 poets will receive a free copy of the BPPC 2020 anthology
Here are the guidelines to follow:
Contestants are invited to submit one poem on the theme
Submissions should be sent to SUBMISSIONS@WRR.NG
All entries must be the original work of the poet submitting it
No ATTACHMENTS. Please submit the poem and other details as the body of the mail
The CONTESTANT NAME, CONTEST MONTH, & POEM TITLE must be mentioned clearly, as the subject of the e-mail. For example: 'Abubakar Nnamdi Adekunle, BPPC February 2020, 'FRIENDSHIP'
The maximum length of the poem should be 28 lines (plus the title). Non-compliance or using excessively long lines will lead to disqualification.
Authors must provide their FULL NAMES and Facebook ID [for identification]and a 50-100 word biography in the body of the e-mail
Deadline: 11:59 PM Saturday, February 29, 2020.
No entry fee required
Poems containing profanity, racism or vulgarity will be automatically disqualified
Good luck!
Eboquills
EBOquills is a literary platform, which aside from promoting African Literature, seeks to be a clinic for creatives and a spa for stressed and distressed artists. We want to take hundreds of writers from the shadows and place them in the spotlight. Send us your best writings and pressing questions. Check out the services we offer, we look forward to working with you on your next writing project.
Related posts