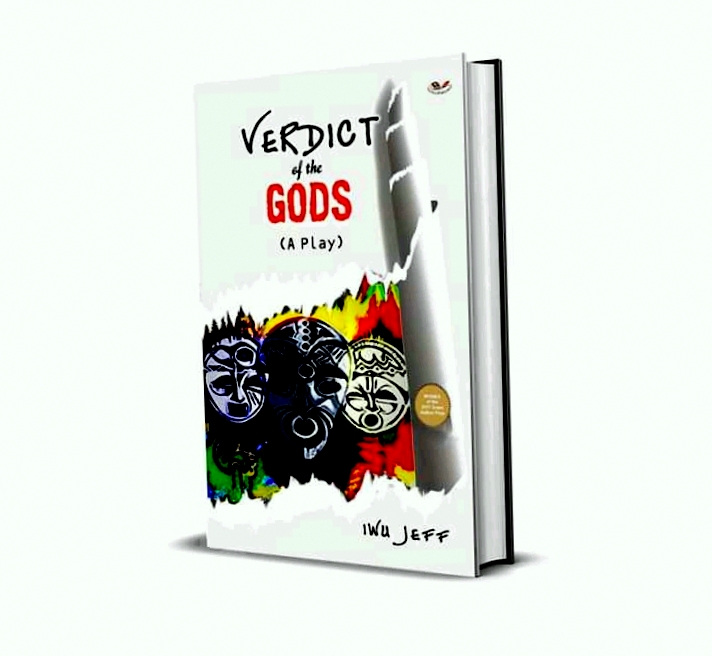 Ten Thoughts on Iwu Jeff's Play, Verdict of the Gods

Eboquills, 2 weeks ago
0
4 min

read
207
Thought No. 1
"The play Verdict of the Gods quarries into the world of traditional leadership responsibility for communal well-being and brings us into contact with yet another lesson that our world has refused to learn."
– Denja Abdullahi Director, National Council for Arts & Culture Immediate Past President, Association of Nigerian Authors(ANA) UNESCO Regional Expert(Africa), Intangible Cultural Heritage of Humanity(ICH) Poet, Playwright & Culture Technocrat Shortlisted, 2018 Nigeria Prize for Literature (DRAMA)
Thought No. 2
"In Verdict of the Gods, the twisting exciting emotional events enter one with exhilarating new form, and this confirms Iwu Jeff as one of the most important and influential writers of our generation."
– Dr. Brajesh Kumar Gupta "Mewadev" H.O.D. (English) – Eklavya P. G. College, Banda, Bundelkhand University, Jhansi, U.P., India, Secretary-General of World Union of Poets (Italy)
Thought No. 3
"Iwu Jeff's Verdict of the Gods is a spectacular play that reinforces the African belief in the gods' phenomenon. It also emphasizes the fact that man must account for his deed at the death-post of his verdict. What an Oedipus exemplification."
– Salamatu Sule Book Reviewer, Literary Critic and Author of Orchestra of Her Rite
Thought No. 4
"I find myself highly intrigued by the characters of the play, Verdict of the Gods. The sketches the playwright carefully brings to light are quite mesmerizing and intoxicating. The lore of the gods and various individuals are laced with an indigenous cultural heritage that charms my soul in the reading, as well as expands my own consciousness. One thing that stands out for me personally is the reverence that is embodied throughout the work. This includes that of the deities as well as the elders. This play offers a great and somewhat subtle message for us all in reference to our relationships."
William S. Peters, Sr. Poet, Writer, Activist Publisher, Inner Child Press International, USA
Thought No. 5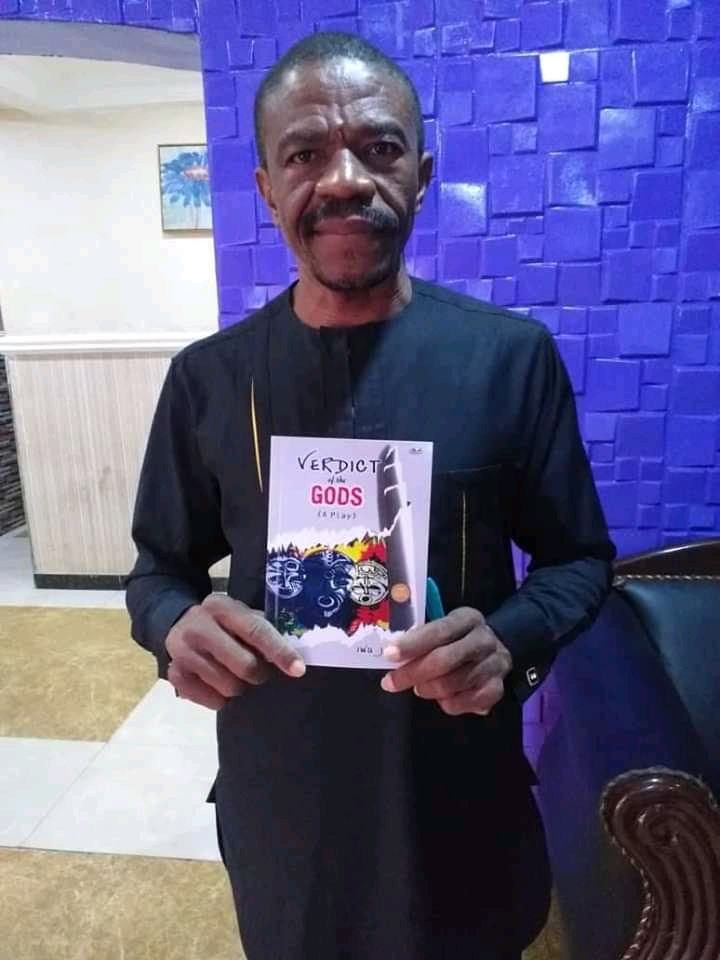 "The reassuring kinetics of African Literature is that vibrant young writers are fanning the embers of the muse. Here is one more promising voice with his play entitled, Verdict of the Gods. The story races home with the rich escort of appropriate proverbs and the reader is rewarded by the pleasant shock of a messianic climax where a king unusually pays the ultimate price by giving his life for the redemption of his people."
– Dr. Camillus Ukah Long Listed NLNG Prize Prose 2008, Winner ANA/ Lantern Prize Prose, 2012. National President, Association of Nigerian Authors (ANA)
Thought No. 6
"Jeff Iwu's Verdict of the Gods, which draws extensively on the author's rich Igbo heritage, is a parabolic commentary on our country in dire need of veritable change. Like Achara, Nigeria is plagued by a curse brought on it by the ferocious greed of its scheming, homicidal and ostentatious political leadership. In this touching tragic play, Iwu reveals that Nigeria's problem is deeply rooted in its savage history of murder, plunder, marginalization, and exploitation of the weak. This season of change, Verdict of the Gods calls for a concerted effort to unravel the problem and address it holistically. The play's ending with the suicide by hanging of Eze Obioha (lit. the heart/will of the people), is an uncommon display of courage and acceptance of responsibility for the mistakes of past leaders."
– G Ebinyo Ogbowei, Poet, Lecturer- Department of English and Literary Studies (Niger Delta University, Wilberforce Island, Bayelsa), Shortlisted NLNG 2005 and 2009, Author of Let the Honey Run and Other Poems
Thought No. 7
"Verdict of the Gods is an epic tragic tale told in the voice of an ancient griot."
– Nwokeabia Ifeanyi John Teacher, Poet, Literary Critic and Reviewer
Thought No. 8
"Iwu Jeff's Verdict of the Gods is a microcosm of the Nigerian society. The gods are angry and the land is doomed. Who will be the sacrificial lamb? This masterpiece is rendered in a carefully selected diction, spiced with apt proverbs that fill one with the glamour of Africa and Africanness."
– Ilegbemi Idowu Joshua Teacher, poet, literary critic and reviewer
Thought No. 9
"Verdict of the Gods is a revelation."
– Transconventional Publishers
Thought No. 10
"Iwu Jeff's Verdict of the Gods is African home of proverbs."
Mustapha Abduljalil, Poet and writer
Are you an aspiring author who just landed a publishing deal? Or perhaps you are a self-publisher author looking for a strong review for your soon-to-be-published or already published book, fill out our contact form here, and fill in "Book Review" in the subject line. Our rates are fair!

Eboquills
EBOquills is a literary platform, which aside from promoting African Literature, seeks to be a clinic for creatives and a spa for stressed and distressed artists. We want to take hundreds of writers from the shadows and place them in the spotlight. Send us your best writings and pressing questions. Check out the services we offer, we look forward to working with you on your next writing project.
Related posts


Facebook
To get one's book in front of the right audience these days can be a little tasking for new authors. It doesn't mean that 'old' authors already know their way around how to adopt new book technologies which the vast majority of readers now employ as they try to beat the many distractions in the fast-paced world.
.
.
If you are an author or aspiring author, we can help you navigate these, help you select the best and most suitable options which promises to get your book in front of those who you wrote them for.
.
.
Hit us up, already!
.
.
#authors #books #audiobooks #authorsofinstagram #ebook #Tuesdaythoughts #booklove #writingcommunity #bookstagram #eboquills #bookstagrammer #writes #writersofinstagram #writerslife #aspiringauthors #bookreviews ... See MoreSee Less
Twitter
Trapped in the poem, "How we Spell Home", are many stories of insurgency and violence that the victims did not get a chance to tell before they were eternally silenced. @OgwijiEhi takes the time to tell them in lines and in verses:

https://eboquills.com/2019/09/27/how-we-spell-home/

#poetry #EndSarsNow
Those #writers who win and get loads of accolades are careful to give luck as many slots as possible. We want to ensure that you are one of them. So, here's a list of free to enter #writing contests in October: https://eboquills.com/2020/10/03/free-to-enter-writing-contests-in-october/

#WritingCommunity #submissions #eboquills
Load More...