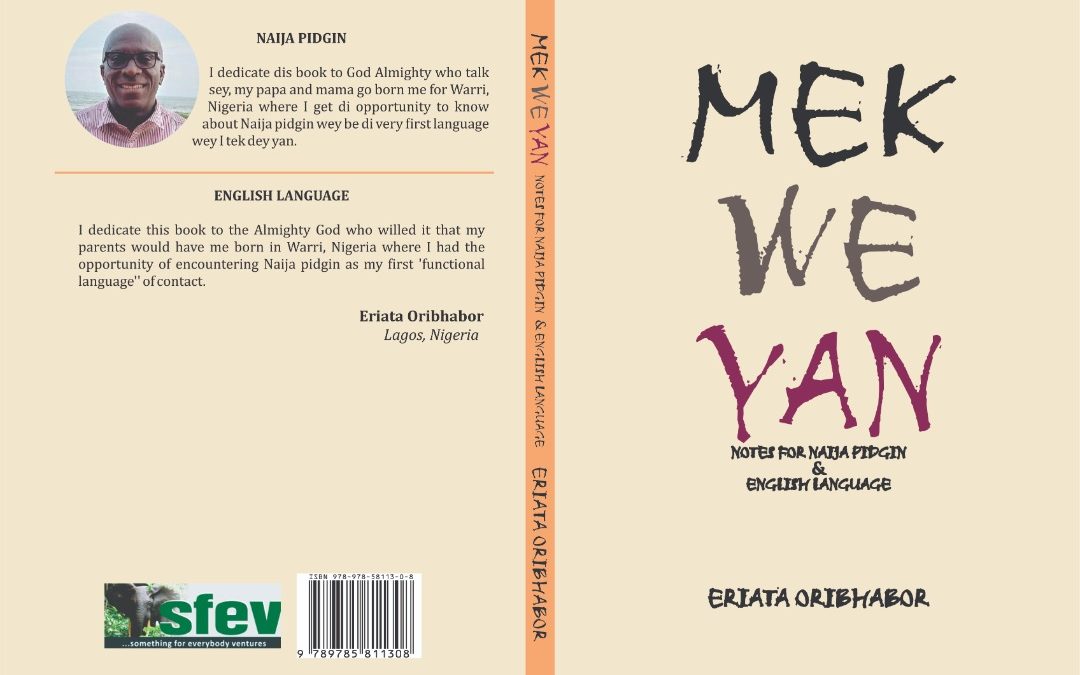 A Review of Eriata Oribhabor's Mek We Yan
Ehi-kowochio Ogwiji, 3 years ago
0
4 min

read
3169
Mek We Yan (Notes for Naija Pidgin & English Language) by Eriata Oribhabor is a 63 paged book, published by Something for Everybody Ventures (SFEV) in the year 2020.
I was torn between writing this review in the English Language or the Naija pidgin language but I fear my pidgin might be a little too weak to paint a sharp pictorial representation of the magic, Sir Eriata Oribhabor created in this book. Not surrendering to my fears but giving in to my better judgment, I decided to write this review in the English Language.
Mek We Yan is a lighthearted book, that is both exciting and expository. It is what a person might refer to at first glance as a handbook for someone learning Naija Pidgin Language but on a deeper and more introspective look, Mek We Yan is a lot more than that. It is a hike through what Prof. Anthony Oha refers to as the "Nigerian linguistic environment." It makes a case for a language whose potentials to unify the Nigerian "multifarious ethnic disposition" has been greatly underrated.
The author seems to ask a question the literati community has ignored for too long, "why has a language- which appears to be our collective possession and has remained unstained by ethnic biases- not been widely used in literary appreciation? As one reads this book, this question jumps off its pages, sometimes laced with humor and other times, unclad in frank honesty, but begging for answers at either opportunity.
Sir Eriata proves in this rather brilliant book that a good writer is not just a good reader but also a good listener. He blends everyday conversation into the book in such a manner that makes the reader feel he is in the middle of a conversation with your friend. This two-part book lets the reader in on very interesting pidgin terms and gives them specific applications and examples of their usage. Impressively, the author emphasizes the allotropic nature of Naija pidgin words/expressions, employing various dialogues to better interpret them.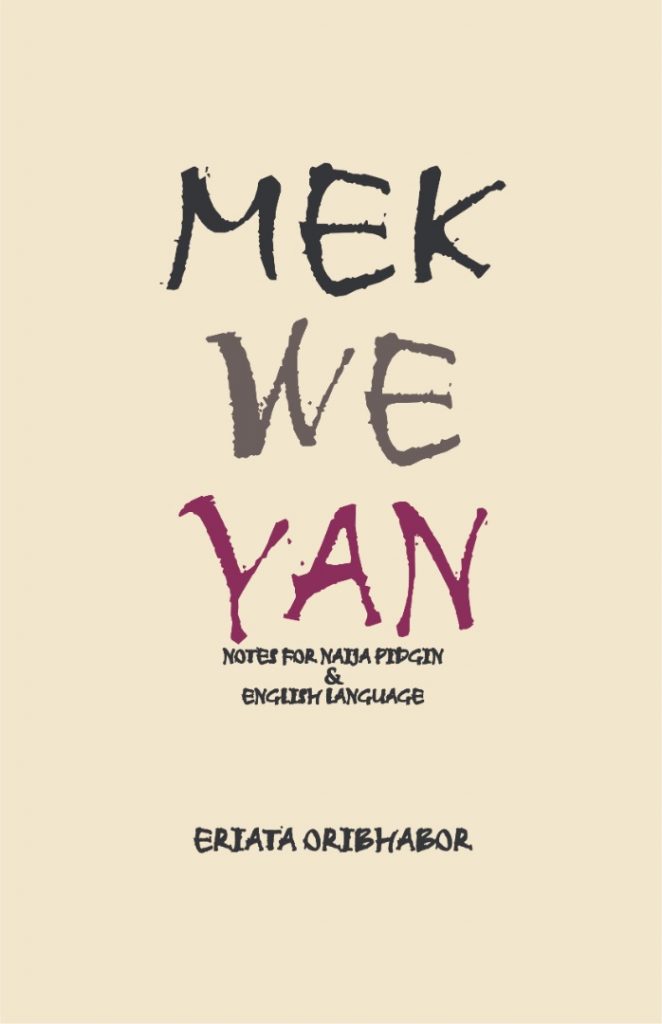 According to him, "…a beauty of Naija Pidgin is that every word, phrase… is loaded, requiring a reflective attention in unlocking full import or meaning(s)."  For instance, the expression, 'this na wrong number' could be appropriate in a telephone conversation when you are certain you do not know the person the caller intended to call. And it could also mean that, someone who is channeling some negative vibes to you and seems to be in the mood to pick a fight has chosen the wrong fight partner (See page 3).
In Mek We Yan, the reader will learn about everyday words and the very many ways the pidgin language chameleons and mutates to meet the communication needs of a people so diverse but obligated to live together. The reader will also learn about the evolution of the language under the influences of technology and the manner by which it borrows expressions from other Nigerian languages as it grows.
One cannot but commend the author for the dexterity he employs to disambiguate phrases by carefully dissecting them. He goes the extra mile, giving a word-by-word translation or casting scenes in which such expressions take shape.  Sir Eriata leaves no stone unturned as he goes from how to make basic everyday transactions (E.g mama put, eat without. See page 40) to dating language, (E.g na flower I go chop? Page 15; away match, page 14; arrangee marriage, page 21) to advertisements (See page 26, 27).
Sir Eriata takes the reader by the hand into the streets of Nigerian cities and suburbs, and interestingly he draws out the raw materials for this 'tour' from the most unexpected places; newspapers, books, street fights, and roadside conversations. Whether Mek We Yan is your first or nth contact with the Nigerian Pidgin Language, it will surely be exciting and memorable!
Mek We Yan is available in bookstores in Ibadan and Ikorodu Lagos or you can contact the author, Eriata Oribhabor directly for directions on where to purchase a copy of this beautiful book!
Ehi-kowochio Ogwiji
Ehi-kowochio Ogwiji is a freelance writer and editor who loves to write poems, creative nonfiction, and great content and copy for businesses. When she is not writing, she's either reading African classics or listening to country music. Ehi is a co-winner of the 2020 Girl Rising Storytelling Challenge and the author of a cute little [chap]book of poetry called ICEBREAKER. Say "Hi" to Ehi on Twitter @ogwijiehi
Related posts