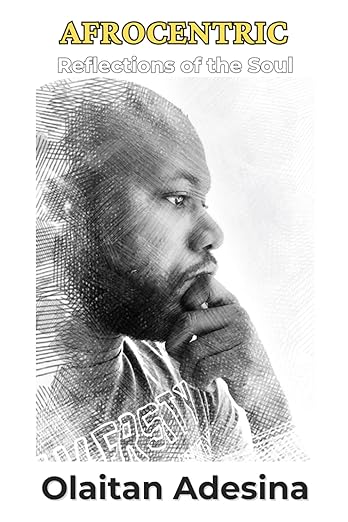 Reality is black and white
Every other colour is an illusion
To grief is to be stuck in profound darkness—requires you to turn inwards for light. Introspection is a form of mourning. You exhume events and memories and lay them on the autopsy table. You interrogate faiths and values.
The Oxford Dictionary defines Afrocentric as, focusing on or influenced by Africa or cultures of African origin. Olaitan's collection of poetry, though written in English, leans heavily on the wealth and depth of the Yoruba language and ideologies for its images.
The poet refers to this body of work as reflections of the soul. It is no wonder the first poem, Black Earth speaks of birth, a beginning—the forming of thrones from bones and kingdoms from blood. He delivers a Siamese-like philosophy that marries seemingly parallel viewpoints—war and intercourse, lust and knowledge—earth is home to death. This poem is a braid of beliefs, the theory of genesis by the Christian and the Yoruba religions, and the scientific evolution. And this is the beautiful chaos readers are served for breakfast.
Fish or Crab speaks of a silent deity, a subtle reference to our innate god-like nature that ultimately puts our destiny in our hands. The oracle is not silent, but does not offer any concrete answer,
She says, hit the road
You can't be home
And know who will die at war
The knowledge of life is in the journey—in the decisions we make (or don't).
Invocation is the art of tapping into natural science and applying it to peculiar situations. This is how you remind the gods of the natural order of things and how your case should not be different—it's like holding a mother to her promises.
When palm oil sees the sun, it melts
If kernel oil sees the sun, it melts
When shea butter sees the sun, it melts
The jute mellow says your hearts melt
Towards me today (Invocation, page 10)
The early poems in this collection of fifty poems are wrapped around the theme of beginnings (and endings) and the fact that death is not final. But you will come to realise that there may not necessarily be a distinctive art or pattern to the arrangement of the verses in this book. The response to loss does not have a science to it—it is largely incoherent and inconsistent, as personal heartache intertwines with general despair and pockets of sunshine. And sometimes the indifference of mundanity.
Who knows from whence
The ocean springs
It never ends. It only begins
And goes on through eons
Like my soul, immortal (I Will Be Back, page 13)
Death is the eldest of all creation
She picks the best part of the meat (Three Parts, pages 18-19)
The poems moved away from death and deep ruminations (albeit temporarily) to seemingly terrestrial themes. But this is where Olaitan displays his flair for double entendre.  He lavishes nostalgia and nature—and astute metaphors.
Order a copy of Afrocentric: Reflections of the Soul here
Nostalgia is also a form of grief. A celebration of memories that may not be experienced again due to growth, seasons and/or geography. Esunsun reached into my childhood cache and drew out tales of cold nights and the predatory lust for edible termites after the rain. The images here tickle my mind's tastebuds.
Children gather
Brooms in hand
Swatting to bring down
A snack for one day
A deeper look into the poem and I see the story of a people and their idiocy of embracing age-long pain, falling for promises of enjoyment that never endure—a night's snack after yesterday's famine (and a drought that comes with tomorrow's sun). A prince falls and another rises brandishing new hopes…then dust gathers again.
I wrote my name on classroom walls
And mansonia desks in library stalls (I Scribbled My Name, page 17)
The introductory technology laboratory was the last building on the west side of my school. This was where boys fraternise. The wall at the side of the building, that faced the bush, was our wall of fame—inscriptions such as Limo was here littered the wall. And over the years I spent in school, boys somehow found spaces to append their signatures. I Scribbled My Name is man's quest for immortality and relevance—his refusal to be silenced.
A good poem is a time marker. It is also a time bender. Olaitan Adesina takes primal themes and puts them in a time box. One notable strength of the author is his ability to thread multiple themes. A few of the poems in the book talk about death, friendship, and technology (social media) in one breath.
One day, you'll call me and I won't answer.
Your text will show blue ticks
But it won't be me reading. (Dhikrayat Waáshbah, Page 14)
The night before I died.
I wrote a poem
You saw on Facebook and said
"Wow! What a great poet!"
I spoke of what was to come
But you missed it (The Night Before I Died, page 20)
Grief Often Cuts Deeper than what any verse of poetry can convey. And it echoes in every line, every poem, every page of this poignant collection. Grief for the loss of a lover, a lost nation, and forgotten traditional values. However, according to Leo Tolsoy, only people who are capable of loving strongly can also suffer great sorrow, but this same necessity of loving serves to counteract their grief and heals them. I read through these poems and saw a lover—of words, home, and culture—a husband reeling from the departure of a partner. But when the story ends/The glory begins. A Star Never Dies.
Jide Badmus is a poet (& editor) inspired by beauty & destruction. He is the author of Obaluaye (Flowersong Press).
Eboquills
EBOquills is a literary platform, which aside from promoting African Literature, seeks to be a clinic for creatives and a spa for stressed and distressed artists. We want to take hundreds of writers from the shadows and place them in the spotlight. Send us your best writings and pressing questions. Check out the services we offer, we look forward to working with you on your next writing project.
Related posts