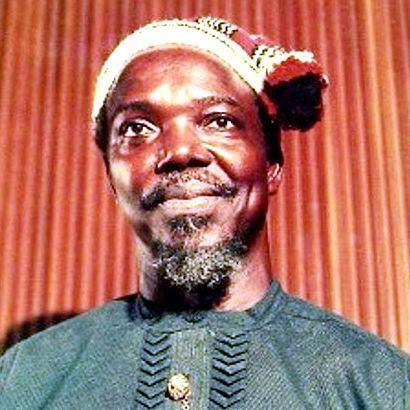 We do not mourn men like Chukwuemeka Ike because they do not actually leave us. We know that their journeys to the land of the spirits did not begin on the day they hosted death. So when we scoop a handful of tributes, we do not do so at the dictates of grief. We do so to manure their legacies. We do so to ─ as Chukwuemeka himself would say ─ 'to heap sand around the waist' of the trees they added to the orchard of creativity and African Literature.
Here at EBOquills, we will not join our voices in the dirge. We will not let tears make its furrows on our cheeks. We will not let sorrow lodge in our hearts, for after a harvest (of stories), every farmer must return. And it is only wise that we rejoice with the man whose baskets and barns have seen the blessings of his chi, whose table had and still has something for us and who the gods cannot but smile at.
However, we must bear in mind that when the music stops, the dancers must catch their breath, hence, we that yet dance must take a moment to re-examine our dance-steps. Are you the weevil in the basket of African stories that our ancestors have been collecting? Are you not bleaching your black voice (that is if voices truly have colors) to get Western attention? Are you not putting away our locust beans and other African spices from your creative delicacies because the judges at nearly every contest cannot stand the smell? Are you not diluting our heritage just so it does not corrode the narcissism of those who are giving you a platform?
As you write tributes and send goodwill messages to the family of the deceased, string along the questions above. Try to answer them sincerely.
Here is a list of books written by Chukwuemeka Ike

Eboquills
EBOquills is a literary platform, which aside from promoting African Literature, seeks to be a clinic for creatives and a spa for stressed and distressed artists. We want to take hundreds of writers from the shadows and place them in the spotlight. Send us your best writings and pressing questions. Check out the services we offer, we look forward to working with you on your next writing project.
Related posts


Facebook
.
.
Every month, we encourage writers to set reading targets. Draw up personal reading schedules and add more books to their "must-read" list. You know why?
.
.
Because a book is a friend. And we writers have so few friends because we are laid back and our energy levels don't just match with the ever-bustling world.
.
.
So, tell us, what books are you reading this December? If you need suggestions, send a DM. We will be glad to suggest some books to you 🙂🙂
.
.
Enjoy your December! ... See MoreSee Less
Twitter
"...but sometimes, the sky breaks into dawn with the proclamation of

thunderclaps & gloomy downpours, instead of the gaiety of sunshine,

as if to say that it, too, is still learning the art of joyfulness."

- By @boloere_sod

#poems #poetry #poets #eboquills #thursdaymorning
Every line of these poems is embroidered with mesmerizing metaphors. The poet @AyooluwaOlasupo shares what we would like to call a personal documentary of her journey to healing. In all, her poetry is full of hope and promise. https://eboquills.com/2020/11/19/two-poems-by-nigerian-poet-ayooluwa-olasupo/
Mustapha Enesi's (@Enesi_Is_Fine) story, TRISHA is a sizzling short story. It makes a worthy read for the adventurous. So, if you love adventures, don't sleep on this one!

https://eboquills.com/2020/11/17/trisha-a-short-story-by-mustapha-enesi/

#stories #shortstories #storytime #eboquills #storyteller
Load More...