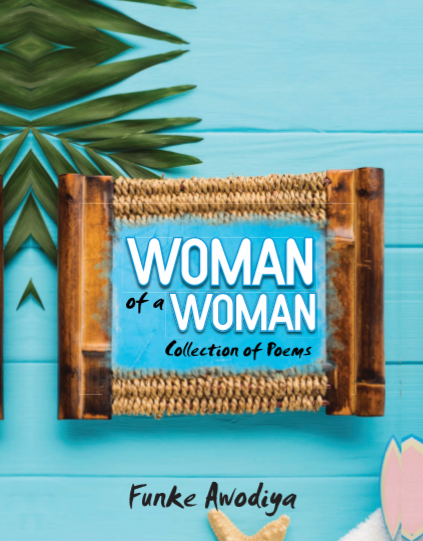 A Review of Funke Awodiya's Woman of Woman
Eboquills, 3 years ago
2
4 min

read
1595
Author: Funke Awodiya
Number of pages: 75 pages
Published by: Something for Everybody Ventures (SFEV)
Year published: 2020
Funke Awodiya's anthology of poems, Woman of Woman, is a diary of tributes to great women and unsung heroines like Dora Akumyili (Tribute to a First Daughter); Bukky Ajayi (Maami); Dr. Stella Adadevoh (Here We Are); Maryam Babangida (To the Memories of a Trailblazer) and for all Nigerian women (Queens of the Niger Area).
I went at this collection, one poem at a time because I needed time to pause and absorb the powerful messages carefully wrapped in lines and verses by this fine-fingered poet.
The opening poem "Stand Up!" drew me in just as the coolness of a river seduces tired farmers after a long day under the fury of the sun. The message is all-so strong, and sweet like fresh palm wine, my mouth continued to beg for another sip until the last drop fell from the keg. Funke Awodiya uses simple language to talk about the (r)evolution of the womenfolk, urging more women to enlist
"…hearts that raised us,
to be the pinky blueish girls we were,
brown sugar women we are …
stand tall!
for women we are
girls we used to be
bitches they made of us
"witches" we will become
let no rapist rape our tomorrow,
cage our today
or stone our age."
This right here is one of the most simplified gospel of women empowerment, girl-power and if I may add, feminism; the most misunderstood word and movement in our society, which she did not close without writing about in her poem Land of ignorance:
ignorance stole their vision
making them think penises are chalks
and breasts are dusters,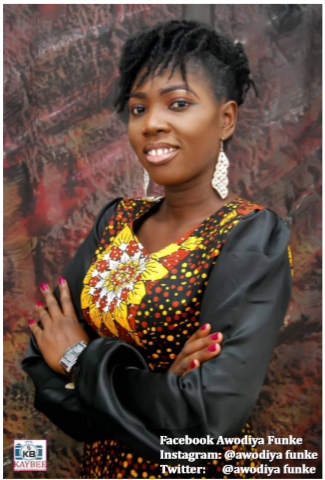 She leaves out no isotope of womanhood in this collection. Every slice of reality, women live with is captured so aptly. In Woman of Woman, there is something for:
the widows,
in Widow's Might
"You're a widow not a window of pity,
Throw not a party,
If empathy finds you
Open your arms and embrace it"
the wives,
in Fateful Wives
and message of submission to death
still flies from the pulpit
to the head that kills its body in words and blows
telling her to be fate-full till death hurls her
and her faith to the grave,
where fate-full wives rest in pitiful peace
early marriage,
Elegy to the Little Bride
Under the shade of dongoyaro tree she sits
Harvested unripe fruit
the orchestra of a childhood cuts short
sings dirges of stolen dreams,
who will hear this sober tale of a little bride?
in no time a girl becomes a mother of another girl,
disabled women:
In poems such as Sitting-Tall Queen and pink ladies
motherhood:
–Who can beat mothers' love?
"If not a mother, who wears her children
like beads adorning her neck"
–End of Time
"Mother's shawl is long enough
to strap every child's dream to her bosoms"
–Every day is Mother's day
It is magical to be reminded of who you are. Sometimes, that reminder calls one's attention to the vast deposit of talents and abilities which have been lying fallow. Funke knows this and applies it very commendably in the following poems:
–Woman in portrait,
Woman of a woman
Woman in portrait,
your gait is a reminder of standing trees
in a forest of fallen trees
–This is me
We are descendants of warriors,
Women who fought yesterday and bought today,
for their unborn daughters
Queen Idia of Benin, Moremi Ajasoro,
Queen Amina of Zaria, Olunfnmilayo Kuti,
Flora Nwapa
This is me,
Unapologetic! Nigerian woman.
–Woman
A woman might stand alone
But she has an army in her
Funke Awodiya employs various poetic implements, imageries, metaphors to send home striking messages of hope. For instance, in Wonder Woman, she writes:
… of tears sweetened with cubes of joy
sadness bleached becoming snow white smiles
In yet another, The sun will shine again, she wrote: hope is the silage and hay for the days of drought.
The word-economy, simplicity of style, and relatable diction are very major ingredients in this collection especially because all those three are becoming extinct in contemporary poetry.
Woman of Woman is a book for everyone; girls journeying to womanhood, men who dream to be fathers to these girls, and all women, who the author reminds to be supportive to one another in poems like Prayer for a sister, Dear Sister Omolola, and
Sister's Creed:
Don't leave me behind
Because I slowly walk
Allow me move at my pace
Jealousy is a stranger where love reigns
Funke Awodiya's Woman of Woman is a strong poetic statement that I like to compress into one sentence: a woman is not a finless fish, which must live only at the mercy of societal waves and tides.
Eboquills
EBOquills is a literary platform, which aside from promoting African Literature, seeks to be a clinic for creatives and a spa for stressed and distressed artists. We want to take hundreds of writers from the shadows and place them in the spotlight. Send us your best writings and pressing questions. Check out the services we offer, we look forward to working with you on your next writing project.
Related posts