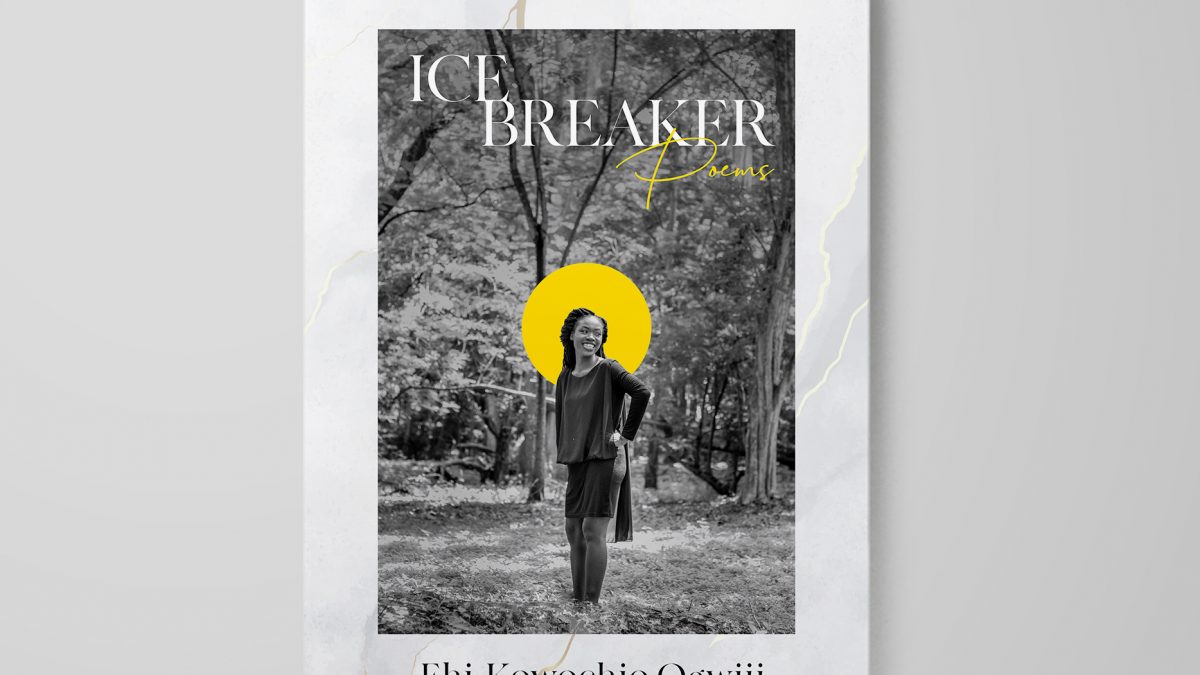 North Carolina Literatus says Ogwiji's ICEBREAKER is a "Delicate Ballet"

Eboquills, 3 weeks ago
0
2 min

read
254
I invite you to come take a riverboat excursion through the crystal-clear waters of the heart, mind, and soul. Feel the wind at your back as you immerse yourself in this oasis of words. You will be at once quenched and refreshed, droplets of Summer rain on your tongue so bittersweet. 
Ehi-kowochio Ogwiji extracts rays of bright sunlight from the darkness as she brilliantly and effortlessly navigates the intricacies of the human condition. She performs a delicate ballet with her balanced and strong use of metaphors. Emotional intelligence pervades every page while she choreographs her exquisite dance of the heart.
She starts with a blank canvas, painting a picture with words using every hue of the rainbow. The red and orange of the burning sun express the passion and urgency with which she writes. Ehi -kowochio uses her quill to ignite strong emotions and deep understanding within us. The finished product is an embroidered tapestry that will be etched in the reader's mind.
Take a healthy bite from this freshly picked apple, for these poems are meant to be digested slowly and deliberately. Imagine yourself peacefully sitting under the shade of a flamboyant tree on a warm Spring day, a whisper of a cool breeze in the air. Or on a loveseat bench by the lake watching the geese swim in formation. Each line and stanza are delivered with precise stealth, a vaccine for any current ailment.
Gather around the fireplace with a steeping cup of tea and feel the delightful sensation of Ehi-kowochio's lexicon coursing through your veins. Icebreaker is the vessel and Ehi-kowochio Ogwiji is your Captain.
Download a free copy here.
About The Author
Omis M. Carter is a basketball coach and occasional poet, but an all-time lover of poetry and didactic literature. When he is not spending time with his cat, he takes a long walk along the beautiful Ellen Lake, watching the geese and taking pictures. Omis lives and writes from North Carolina, USA.

Eboquills
EBOquills is a literary platform, which aside from promoting African Literature, seeks to be a clinic for creatives and a spa for stressed and distressed artists. We want to take hundreds of writers from the shadows and place them in the spotlight. Send us your best writings and pressing questions. Check out the services we offer, we look forward to working with you on your next writing project.
Related posts


Facebook
To get one's book in front of the right audience these days can be a little tasking for new authors. It doesn't mean that 'old' authors already know their way around how to adopt new book technologies which the vast majority of readers now employ as they try to beat the many distractions in the fast-paced world.
.
.
If you are an author or aspiring author, we can help you navigate these, help you select the best and most suitable options which promises to get your book in front of those who you wrote them for.
.
.
Hit us up, already!
.
.
#authors #books #audiobooks #authorsofinstagram #ebook #TuesdayThoughts #booklove #writingcommunity #bookstagram #eboquills #bookstagrammer #writes #writersofinstagram #writerslife #aspiringauthors #bookreviews ... See MoreSee Less
Twitter
Trapped in the poem, "How we Spell Home", are many stories of insurgency and violence that the victims did not get a chance to tell before they were eternally silenced. @OgwijiEhi takes the time to tell them in lines and in verses:

https://eboquills.com/2019/09/27/how-we-spell-home/

#poetry #EndSarsNow
Those #writers who win and get loads of accolades are careful to give luck as many slots as possible. We want to ensure that you are one of them. So, here's a list of free to enter #writing contests in October: https://eboquills.com/2020/10/03/free-to-enter-writing-contests-in-october/

#WritingCommunity #submissions #eboquills
Load More...