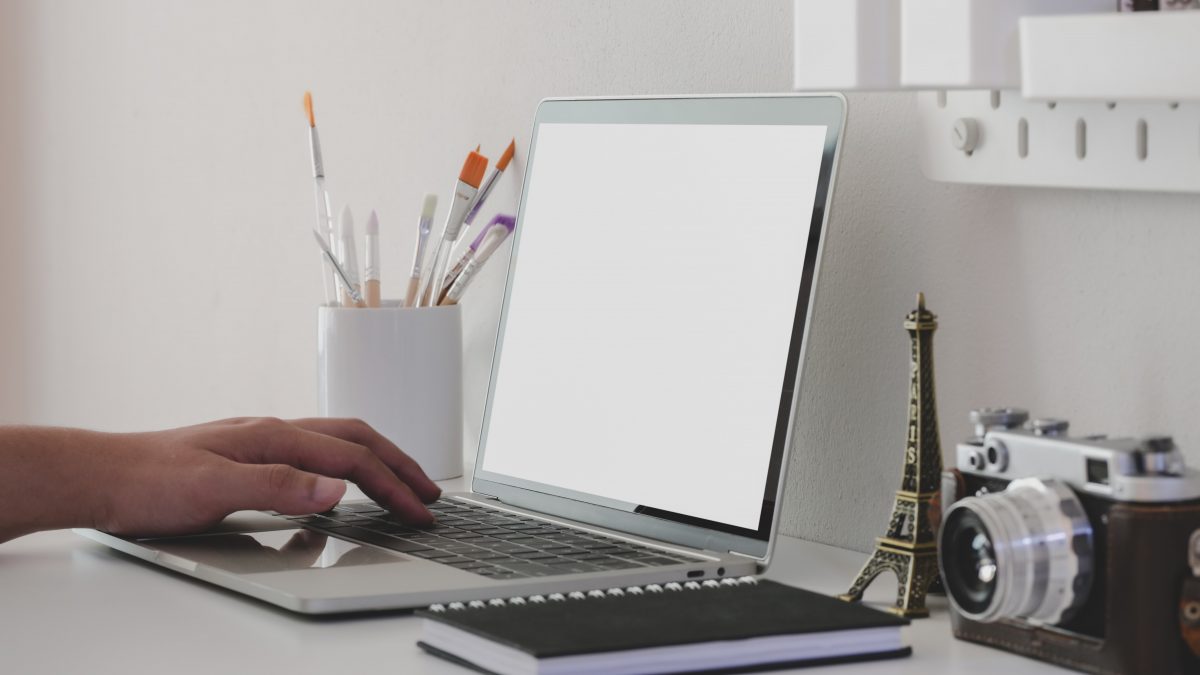 Writing Prizes & Contests to Enter This April
Eboquills, 3 years ago
0
5 min

read
949
Prizes and awards do not define the quality of a writer. They are the icing on the cake. The cake — our written works published in literary magazines or stashed on our computer — is the true success, but icing wouldn't hurt anybody. Winning writing prizes can revamp your bio. Even if you don't win, at least, you'd have had some of the finest editors read your work. It's a win-win situation.
So, have you been looking for an opportunity to showcase your writing on the grandest stage? Here, we curate some free writing contests that you can enter this month of April:
Sana Story Prize: Interactive Romance Writing Contest
Genre: Fiction, Short Story on the theme "Slow Burn".
You know those stories where the tension and pull between two people just keeps building up? And you feel SO hot and bothered by the knowledge that these two people BELONG together. But it seems that, despite getting very very close, they will actually never GET each other.
‍
Until they DO.

And it's so satisfying, because you have been waiting for it for so long. The tension is released, and that tingling excitement the slowly teasing story left within you makes you start the search for the next, delicious treat.
Word limit: no limit
Prize: €500
Deadline April 11, 2021
Learn more about the Sana Story Prize here:
The Alpine Fellowship Writing Prize (Deadline extended)
This year's theme is: "Untamed: On Wilderness and Civilization". And guess what? You can submit prose, poetry, visual art, and academic writing. Below is what they are interested in:
"We're interested in examining our conceptions of wilderness and wildness, the ways in which we attempt to tame our world and ourselves, and the connection and spaces between 'the wild' and 'the civilised'. We're interested in humankind's perpetual efforts to 'enframe' nature, or make it productive, whilst rhapsodising the very thing this pushes out."
Genre: fiction, flash fiction, short story on the theme "Untamed"
Word limit: maximum of 2500 words
Prize: £10,000
Deadline: April 15th, 2021
Learn more
Parsec Short Story Contest
The theme for the 2021 contest is: Still Waters, Deep Thoughts.
This can be conveyed in the setting, plot, characters, dialogue…the only limit is your imagination. The theme must be integral to the story in some way and not just mentioned in passing.
Word limit: 3,500 words.
Prize: $200
Deadline: April 15, 2021
Learn more here
Continental Essay Competition
"The Competition aims to have 3 categories of winners: the National, Regional and Continental. In this regard, ARSO is requesting all the National Standards Bodies (NSBs) in Africa to organise the competition at the National level and send out the attached documents (8th Continental Essay Concept Paper and Registration Form) to the various Universities /Colleges for the competition. The NSB is expected to conduct the competition at the National level. This entails sending out the relevant documents to Colleges/ Universities, receiving the essays from the participants, doing the assessment and awarding or giving recognition to the winners as appropriate to the NSB."
Deadline: 19th April
Visit the official page of the contest for details
Tongues of Poetry: Call For Submissions of Poems in Fulfulde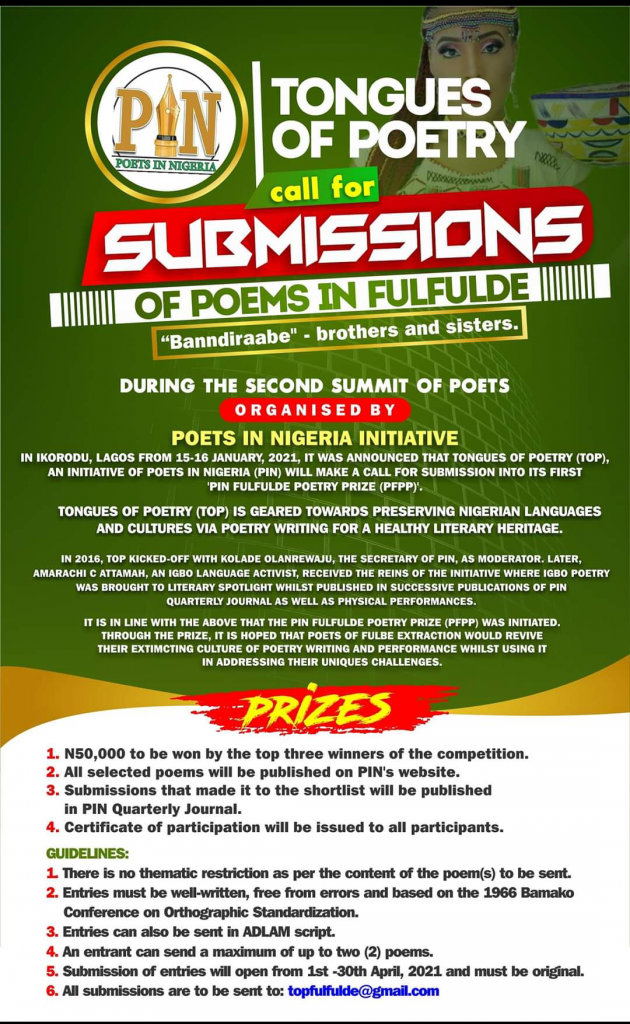 You can win up to N50,000 and the good thing is, there is no fixed theme, your imagination can roam wild and free. See flier for all information.
Call for Submissions to SprinNG: An Afro-Eros Anthology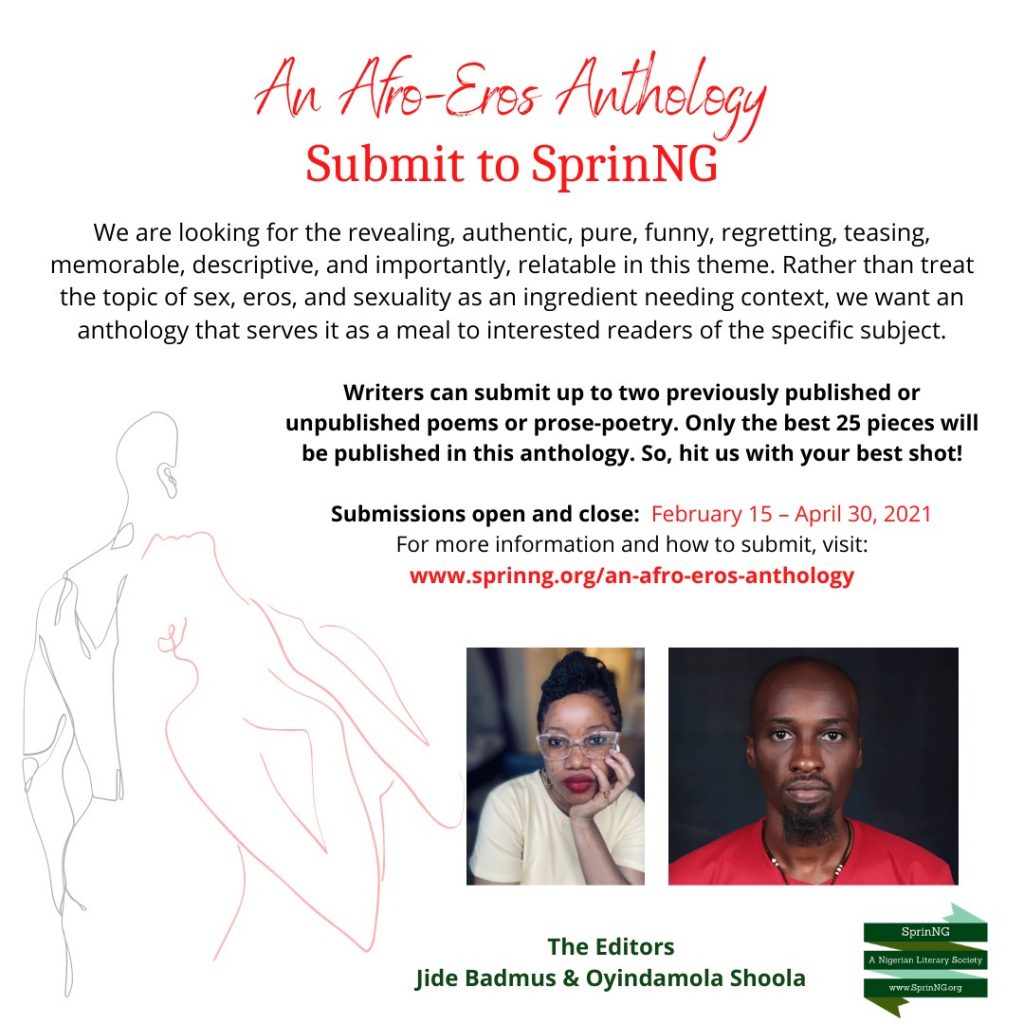 "We have read several anthologies about love, its coyness, fragility, joy, and sometimes, heartbreak. What's often shied from in the narratives of love especially in many African cultures is its involving eros and sexuality. Even when such is written about, it is bound with entities that water and wrap it up as though such experience is sinful, shameful, or worse, inexistent.
Often, when "black voices" or "afro voices" are used, it is only in the context of activism or a revolution. There are several limitations in finding our voices in a plethora of ordinary human experiences like eros and sex. Worse, the topic, even among Africans, is only led by European ideologies, practices, imagination, and sometimes, standards leading to a misrepresentation of ourselves and misalignment with our cultures.
So, submit to us and hit us with your best shot!
Only the best 25 pieces will be published in this anthology."
Learn more about  SprinNG: An Afro-Eros Anthology
Eboquills Call For Submissions
We have received and reviewed submissions from Switzerland, Zambia, Ghana, Liberia, the Philipines, India, and from all over Nigeria. All of us at Eboquills are committed to promoting contemporary African literature. Our resolve to make Eboquills a cocktail of voices. Something like a fruit salad, with many tiny bits of different juicy fruits, is why we want to feature your poems, short stories (fiction/non-fiction), book reviews, and spoken word videos"
See Eboquills submissions page here
TWMN Prize for Young Female Writers
The Writers Manager Network is still accepting entries for her prize for YOung Female Writers.
First Category: Write a 15 line poem with the title: "A Woman is a Jewel"
Second Category: Write a short story of 200 words
The winner in Each category wins N10,000 and the runners up will win amazing consolation prizes.
Eligibility: Females between ages 15 -27 years are eligible.
Send submissions by email to thewritersmanagernetwork@gmail.com. Attach a professional photo, a short bio and your phone number.
Deadline: 24th April.
Good luck!
Eboquills
EBOquills is a literary platform, which aside from promoting African Literature, seeks to be a clinic for creatives and a spa for stressed and distressed artists. We want to take hundreds of writers from the shadows and place them in the spotlight. Send us your best writings and pressing questions. Check out the services we offer, we look forward to working with you on your next writing project.
Related posts