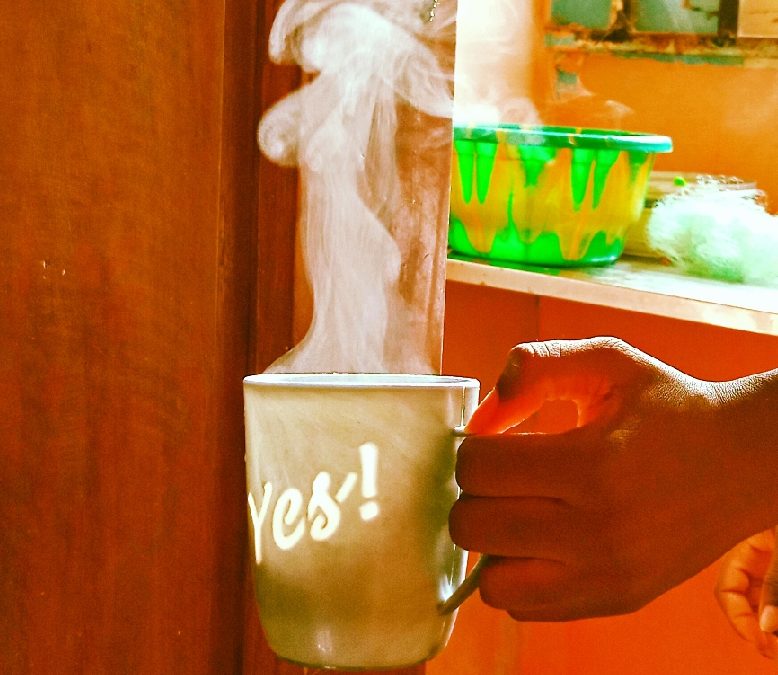 Monday Motivation: Yes!

Ehi-kowochio Ogwiji, 1 year ago
0
2 min

read
319
To kick start this week, I thought to share what I'd like to call a 'kitchen inspiration'. It is basically, a gleam of light that shone on my mind while I was cooking.
I think optimism is like a kitchen knife- today it is a harmless cutlery, it dices your vegetables; tomorrow it becomes a weapon with which you or someone else can use to take your life. But we cannot say we no longer need knives in our homes. Optimism is great fuel to keep our lamps lighted as we walk in the darkness of uncertainties towards our dreams.
There is something about looking at the (wo)man in the mirror and telling him s/he's a bundle of possibilities. That there is a seat reserved for her/him at the table of wealth and s/he must not let complacency make him satisfied with the crumbs getting off the tables of those considered the big guys.
There were times when I sprang from the dust of defeat, took my pains/wounds by surprise and sprinted away on broken limbs. Other times, I stopped pushing the door against my fears, I let them in and entertained them with a drink poisoned with courage. And when I look back now, I can say that sometimes the will to move forward is all the force of inertia we need.
Battles do not end; the struggle here continues. The finishing line for this race called life is death. For this reason, we must continue to strive. We must get behind the steering and drive ourselves to the place where we would find fulfillment. It's not a smooth ride, it never has been. Some days, it is bumpy, other days, there is a horrible hold-up and the traffic lights won't turn green. It's okay if you feel tired and match the brake just to take a break, but to quit? Never! You should not back down or retreat!
This new week, you need these positive vibes. You need to be able to look at the (wo)man you see in the mirror and say 'Yes!' to his/her questions of whether you can overcome, breakthrough or break even, then watch your engine steam up!
Love and light from all of us at Eboquills We wish you a great week!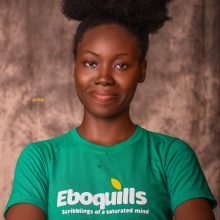 Ehi-kowochio Ogwiji
Ehi-kowochio Ogwiji is a freelance writer and editor who loves to write poems, creative nonfiction, and great content and copy for businesses. When she is not writing, she's either reading African classics or listening to country music. Ehi is a co-winner of the 2020 Girl Rising Storytelling Challenge and the author of a cute little [chap]book of poetry called ICEBREAKER. Say "Hi" to Ehi on Twitter @ogwijiehi
Related posts


Facebook
Writing Tip
.
.
We don't know one writer who has so mastered rejection that s/he doesn't feel bad when a new rejection letter arrives inbox.
.
.
True that editors are becoming kinder and picking their words carefully to ensure they do not crush a potentially great writer whose talent is just in its budding stage, but rejection hurts, anyway!
.
.
We guess it makes the writer think back on how much time they spent working on a particular piece. The research. The reshaping of characters. The editing of hundreds of sentences. And all these make it even more difficult to swallow.
.
.
But then, your "best" might just not be what such and such editor wants. This is why every writer must be patient with themselves because what you consider your best just might be like the prodigal son who left home with everything and returned with nothing.
.
.
. ... See MoreSee Less
Twitter
"...but sometimes, the sky breaks into dawn with the proclamation of

thunderclaps & gloomy downpours, instead of the gaiety of sunshine,

as if to say that it, too, is still learning the art of joyfulness."

- By @boloere_sod

#poems #poetry #poets #eboquills #thursdaymorning
Every line of these poems is embroidered with mesmerizing metaphors. The poet @AyooluwaOlasupo shares what we would like to call a personal documentary of her journey to healing. In all, her poetry is full of hope and promise. https://eboquills.com/2020/11/19/two-poems-by-nigerian-poet-ayooluwa-olasupo/
Mustapha Enesi's (@Enesi_Is_Fine) story, TRISHA is a sizzling short story. It makes a worthy read for the adventurous. So, if you love adventures, don't sleep on this one!

https://eboquills.com/2020/11/17/trisha-a-short-story-by-mustapha-enesi/

#stories #shortstories #storytime #eboquills #storyteller
Load More...