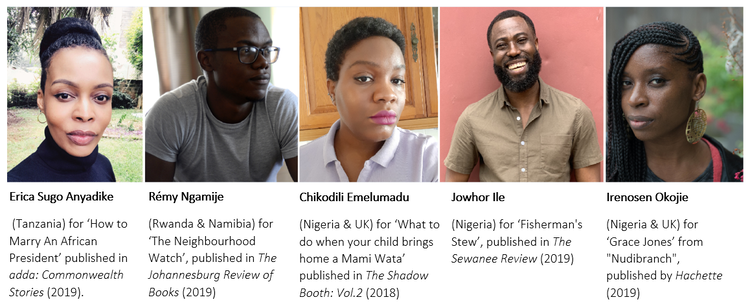 AKO Caine Prize, 2020: Read Shortlisted Stories here.
Eboquills, 3 years ago
1
2 min

read
779
Earlier today, a 5-man shortlist for the AKO Caine Prize, 2020 was announced. In 2019, this prize was won by Lesly Nneka Arimah and it is such a joy to learn that three Nigerians made the list! According to the judges, the five shortlisted stories, "speak eloquently to the human condition through a diverse array of themes and genres. Together, this year's shortlisted stories signal that African literature is in robust health, and, as demonstrated by the titles alone, never predictable."
Why should anyone bother to read them shortlisted stories?
Aside from the judges' striking comment about these stories, every writer, regardless of what genre he/she writes, is advised to read anything and everything. Reading is the surest way to sharpen the nip of your pen in readiness for a bountiful harvest from your muse.
Another reason why you should read the stories in this shortlist is, the AKO Caine Prize is a prestigious prize, and what the judges endorse could be mirroring some of the writing styles which you could pick one or two things from. In the end, what we call unique is mostly a creative re-invention of the old, in a manner that meets the longing for something fresh and new.
Lastly, stories matter. And these are our stories. We need to stay abreast of the way we are represented, while also learning to tell our side of the African story, which we must take responsibility for telling. For as they say, until the antelope learns to write the story of what happens in the forest, the hunter will always be the hero.
Here are the shortlist stories:
Erica Sugo Anyadike (Tanzania) for 'How to Marry An African President' published in adda: Commonwealth Stories (2019)
o Read 'How to Marry An African President'
· Chikodili Emelumadu (Nigeria & UK) for 'What to do when your child brings home a Mami Wata' published in The Shadow Booth: Vol.2 (2018)
o Read 'What to do when your child brings home a Mami Wata'
· Jowhor Ile (Nigeria) for 'Fisherman's Stew', published in The Sewanee Review (2019)
· Rémy Ngamije (Rwanda & Namibia) for 'The Neighbourhood Watch', published in The Johannesburg Review of Books (2019)
o Read 'The Neighbourhood Watch'
· Irenosen Okojie (Nigeria & UK) for 'Grace Jones' from "Nudibranch", published by Hachette (2019)
Read more about the Caine Prize here
Eboquills
EBOquills is a literary platform, which aside from promoting African Literature, seeks to be a clinic for creatives and a spa for stressed and distressed artists. We want to take hundreds of writers from the shadows and place them in the spotlight. Send us your best writings and pressing questions. Check out the services we offer, we look forward to working with you on your next writing project.
Related posts