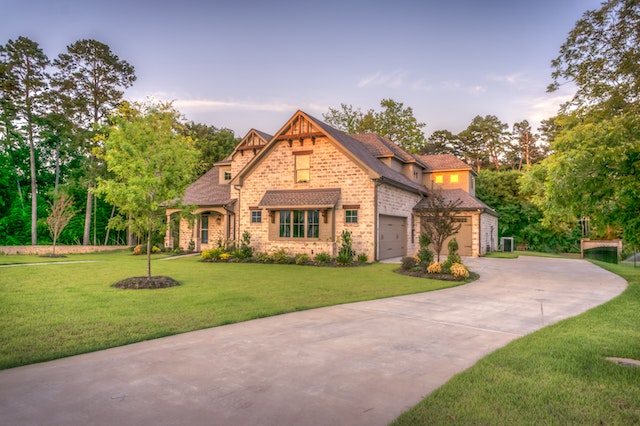 The Big House: A Short Story By Nwabuisi Kenneth
Eboquills, 8 months ago
0
16 min

read
893
Nwabuisi Kenneth is a voracious reader and writer. He holds a degree in English and Literary Studies from the University of Nigeria, Nsukka, where lives, reads, and writes fiction.
The Big House
Before the car horn sounded. Before he called to tell you he couldn't see you from where you both had scheduled to meet—Onitsha south mass transit, New Market, Enugu. Before out of annoyance, you told him to forget you both had agreed to meet here, today. Before he pulled over few meters away from you, gesturing you to enter the fine vehicle he cruised on.
Before all these, you were standing under the pelt of an afternoon sunlight. You wore a blue polo shirt and old jean trousers. A little while before you stood up, that was immediately you arrived; you had gone to sit on a chair beside an aboki—a cobbler's table, watching as the dark-skinned man kneaded a long needle into a shabby shoe sole. You had perched at the edge of his seat saying at first, "Aboki, ya kaki?"
And he had simply replied, "kaki dey good." It was then you realized that he wasn't even an Hausa man, he could be one of those people who hailed from middle-belt, who people often regarded as Hausa.
You had watched cars squealing past you with a slash of their tires on the tarred floor; the sound of the tires on the floor made your head fizz. Each car's body bore reflections from the sun, leaving rays of lights bouncing off. You had wondered with each passing vehicle, if he had changed his mind without telling you, if he had decided not to show up, if he was going to leave you and speed off like he had often told you he did to those other guys he had invited out and left stranded. Each passing seconds made you worry enough to send prickly heats down your armpits.
The first person who gazed at you long enough to attract your attention was an old class mate from secondary school, the short and brown-coloured Kenechukwu, who everyone in school had called Kelly, but you—you always called him K.C. Kelly was the first boy you had kissed way back in your secondary school days; and kissing him wasn't a mere coincidence. It was a planned deal, because you had once had a crush on him, and because he was your closest friend then, you both had consented to the act. Yours was to satisfy the deeply seated urge within you which had always left your penis in a bulging throb when you were with him; his was a mere curiousity of some sort, to know what the lips of another boy like him tasted like.
Now, with Kelly standing beside you in his native shirt and well ironed black trousers, you wondered if he still remembered the kiss, if he still remembered how your lips tasted, if he carried this curiosity into adulthood.
"K.C., how far nah?" You had said.
"I dey, my brother."
"You don graduate nau."
"Yes."
"Engineer!" You crooned, his eyes were all on you.
You both exchanged warm handshakes. He flagged down a tricycle, saying he was in a hurry to visit a relative who was down with an ailment. His eyes were on you, even while he was seated there inside a tricycle speeding down the port-holed lane, you finally concluded he remembered.
***
Maybe it was the sound of his horn that gave you thrills. Maybe it was you leaving the point where you stood to the comfort of his air-conditioned car; a Lexus 350. Maybe it was his voice, rising to chide you for telling him earlier to forget that you both had scheduled to meet. You listened as anger tainted his voice, his speech stretching and returning to your earlobes in lilts. You then realized it was his poor speech articulation, like a baby's cry, that gave you thrills.
You couldn't even wait for him to finish the many statements he had inside before you went on apologizing, "I'm sorry," you said. But what exactly were you sorry for? Were you sorry for him keeping you under the sun that licked the living daylight out of your fair skin for close to an hour? Or were you sorry for being rash over it? You didn't know exactly, so you resolved to believing it was for making him want to say more, by making it difficult for him to make a simple sentence. He hit the steering unconsciously, trying to say a word.
"H—ow are you, though?" The words came out a bit freely, he was getting calm.
"I'm fine." Houses and trees were running past.
"I'm so happy to see you." He was breathy, his words came out in a rush. He tried to engage you in talks. You noticed how hard and long he seized his breath for words to come out, sometimes, it was his left arm or a finger jerking up unconsciously. Most times, while he stammered, you chose to listen to the smooth sound the tires made on the tarred road, you wanted to tell him to stop talking, but you realized he loved talking and you loved listening to him stammer.
In a few minutes, he pulled over inside a parking lot in a filling station, he said he wanted to show you his shop before taking you to the house. The next building by the right was where his shop was located, a barbing salon. Your eyes met a wallpaper bearing brick designs on its surface, two tall flower vases were mounted at the edges of the wall; a metal showcase where shoes of different sizes were displayed, a large mirror was clipped to the wall, few inches above the wide mirror was a plasma television and a decoder bounded with wrought metals under lock. The coziness of the shop made you forget how harsh the sun outside was. A hanging AC showing a dotted green light reminded you of the light in his car charger.   
He asked you what you were still doing in the shithole where you came from to Enugu town. You were going to pick offense for his choice of words, Shit-hole, but you decided against it.
"It was where I schooled, I told you. Nsukka is where the University of Nigeria is located."
"But, you have graduated, what are you still doing there?"
"I am trying to build a life on my own there, since I don't have anywhere else to stay asides there. And food is cheap in Nsukka." You explained.
"Okay, so you like it there?" he asked.
"Not that I like staying there," you continued. "The thing is accommodation, I don't have anyone to stay with, here in town."
"Let's be going sha, it's just this my mentally challenged brother that still keeps me here in Enugu," He stuttered as he went on telling you about a brother and an aged father who had tied him down here in Enugu. You asked him if his brother was violent, if he was the type that chased people around and hurled things at them. He said, "no nah, Ifeanyi is as calm as ice water, he will almost become your paddy."
"Then, what is wrong with him then?" You asked, curious.
He narrated to you how Ifeanyi would always scatter many things in the house, how he broke glass cups and plates and danced on them, leaving sharp, bloody cuts under his feet. How he defecated on every surface while he was away. "Don't worry, you'll get to meet him." After a brief silence, he said you must be hungry and suggested to take you to the house to cook. You followed. He locked only the wrought metals by the door and left in his Lexus to the house.
The house had a black gate. Oyinze was the street name and, as you later learned from him, was also the family's name. When he halted the car before the gate, he went down to open the gate, his gaunt figure danced before you, a bunch of keys jiggling in his palms. He opened the gate and returned to drive you into the compound.
You were still seated inside the vehicle when he rushed to the gate, the metals rang out as the gate closed. He hung the padlock along the hook and didn't lock it. You came down, he got a few things from the car and locked it and took the lead. The compound had a certain quietness to it, you doubted him when he told you that someone was inside.
"Ifeanyi! Ifeanyi!" He shouted, baring his voice the rigidity you never knew existed there.
"Sir!" A groggy voice answered immediately you both stepped into the sitting room.
Everywhere stank like dead things. The sitting room was dark, poor ventilation. High, thick curtains prevented daylight. You watched tiny, dark droplets dotting the cushion seats, at a closer look, you realized those dots were rat shits. As you walked closer before him, a mirror caught your reflection from what seemed like an exquisite bar; empty long bottles of expensive wines and glass cups sat inside. The place—the bar—had books piled around, you bated your eyelids before you considered those books were almanacs and brochures from anniversaries attended, funerals, book launchings. You imagined the house in a different light, a rich tall house not properly taken care of.
The smell of dust rose in your nostril as you went and sat on a cushion seat of what you could call the dining table, you saw woven pieces of cobwebs hanging on the headrest of the other seats around you, and you sneezed and felt your nose tingle. You pinched it with your fingers. Heavy footsteps descended the staircase, you could hear the thump, like a soldier's feet. When you could tell those steps had arrived on the last staircase, you waited and watched patiently as the figure parted the curtain, it was no one else but the one you knew who had been inside, Ifeanyi: Tall and huge; two pieces of solemn eyeballs and a button nose adorned his face. He wasn't well built, he was thick. You could tell he was not of the same age as you or any of your eldest siblings, you could even swear he was older than your friend, the one who brought you here. Asides from this sickness, this mental illness that made him rush into the kitchen without returning your greeting, you envisaged him as a sophisticated bloke who should be somewhere in America or U.K, taking cute pictures in one of those beautiful ambiances. But, here he was, solitarily confined in the four-walls of this big house he couldn't even freely access.
By now, you listened as your friend held a discussion with Ifeanyi inside the kitchen.
"Ifeanyi, what do you feel like eating?"
"I don't know," Ifeanyi replied curtly.
You wondered why an adult wouldn't know what he wanted to eat.
"Are you not hungry, Ifeanyi?"
"Yes," he said at first, "No," he added a little later.
This annoying response got the blood in your friend's neck thumping, now you heard a repeated banging on something—a sink or a fridge. You guessed he was trying to get a word out that was why he kept hitting whatever until, like a squirrel escaping from an invaded hole, the words stumbled out slowly, a rat ran from the kitchen, somewhere from the cupboard, it sauntered till it made its way to your legs, you shrieked and raised your leg, it went under the seat and fiam—it was gone.
A pot of Indomie was boiling, its aroma wafted in the air and made your stomach grumble. Your friend came out from the kitchen and suggested you follow him, and thank goodness because you were already choking in the smell, and you didn't want to tell him because you knew telling him would stir him up. He took you outside and the newly roofed BQ was where you both had walked to; it was by the right side of the compound. While your feet shuffled at his back steadily, he was telling you the new roof was installed on the building by him, he renovated it with his hard-earned money, you asked him why he didn't have any resemblance with Ifeanyi, whom he claimed was his brother. 
He let out a heavy cluck, "Oh! There's nothing you won't ask me, why don't you ask me why we both don't shit from the same anus," he responded rudely. You could tell he was hiding things, you thought on asking him why he was taking you to the boys' quarters but decided against it, since you both were here, you resigned to witness it instead.
The BQ was desolate and poorly decorated, the toilet floor was littered with cigarette ashes. You watched him light a cigarette.
"You smoke too?"
"What do you expect?"
"I hate smokers, that awful breath."
He raised his eyebrows and looked at you intensely, his eyes burned into yours. He said he was going to quit smoking for you. You withdrew your gaze and blinked severally. He quenched the smoke half-way and threw it on the floor, the smoke died before your eyes as he dragged you into the room in the BQ and, for the first time, he kissed you.
You drifted away from him, wiping your lips, waving your hand across your nose. He noticed your discomfort and dipped his palm inside his pocket, withdrew a tom-tom mint and popped it into his mouth.
"I want to kiss you; I've been dying to do so for a while now."
You allowed him, recalling the cacophony of his stammering voice. You held him tight in your embrace, knowing it was these same lips that had produced the sound that aroused you sexually. Breathing his tom-tom mixed with cigarette scent filled you with warmth.
When he drifted his palm down your belt hooks, he found your dick hard. He caressed it.
"You are hard?" He asked you.
"Yes."
"You didn't tell me you missed me too?"
You wanted to tell him it was neither him nor the dirtiness surrounding him that you missed, it was just a thing you loved about him and that thing was eternal: the deep texture of his voice, the lilt accompanying his speech impediment was what you loved. But you didn't tell him.
"Will you be spending a night?" he asked you.
"Yes."
"You'll meet Daddy."
***
Daddy was an older version of Ifeanyi. You met him in the house at night when you returned with your friend from the shop. He was seated at the verandah, reading a page of a book he brought home. He had gone for a political book launch. You and Daddy flowed perfectly, you shared the same interests. He loved reading books and books were your companions too. You loved the smartness education engendered into him. Daddy was Chief Oyinze, and Chief Oyinze would turn ninety in the coming month, but he looked sixty. He spoke big grammar that made you belch up old vocabulary.
It was a wonder how Daddy managed to live with your semi-educated friend. Daddy seemed shriveled around your friend, maybe for his hot temper, or for something else. Your coming to the house made the old man vibrant again with the knowledge you both shared. Daddy had studied in America, he narrated to you that night, his voice ringing in the neighbourhood. He returned to Nigeria much later to work with the great Akintola Williams. You listened to him mention names of his now dead age-mates and colleagues, he also told you how the Nigerian government had wanted him to work in one of their accounting sectors but he refused.
Daddy always had something to say about Nigerian politics. When the light was seized, all he kept saying in Igbo was, "I heard the man doesn't reside in Enugu."
"Which man?" You asked in bewilderment.
"The EEDC chairman, that is why he tells his workers to be on the habit of seizing the light at nights, when electricity is highly needed in every home."
Daddy's stories kept you at the edge of your seat as your friend warmed the soup for dinner and, when dinner was served, he refused to touch it. He remained calm. You felt the images of his past memories flashing across his face.
Your friend told you it happened to him like that sometimes. You were both lying on the bed, he said that the old man might not take a wink all through the night till the next morning. "The memories," he added. "Daddy is old, that's why I pamper him so much."
Old age and mental illness is a disease, you thought as the silences behind the big house was revealed to you by your friend.
"The family used to be one big family, the first son Chike was in the U.S. Ifeanyi was also rounding up from the university and the first daughter Ada was about to get married when the family got plagued," he continued. "Truthfully, I'm not Daddy's biological child, he is my Uncle. But I came into the picture, after Daddy's wife died, to help handle the family," he paused, his voice was trembling but he continued.
He told you how the first son had died mysteriously in America to a strange ailment which had no cure, how the first daughter, who had a suitor coming for her then, got turned down on her wedding day and she got frustrated and couldn't handle the emotional trauma, and on a certain night, she took an overdose of highly concentrated pills and died in her sleep. Ifeanyi strangely turned to defecating upon himself and couldn't hold a reasonable chat. Daddy, now old and wilted as a leaf, may not have a successor if he died today and if Ifeanyi's mental health refused to heal. 
You turned facing the edge of the wall and wept.
Contributor's Bio
Nwabuisi Kenneth is a voracious reader and writer. He holds a degree in English and Literary Studies from the University of Nigeria, Nsukka, where lives, reads, and writes fiction. His works have appeared and are forthcoming in Brittle Paper, Kalahari Review, African Writer Magazine, Fiery Scribe Review, Libretto Magazine, ANA Review, 2021, and elsewhere.
His queer short story, 'The Art of Leaving' was longlisted for the Libretto African Anthology Prize in 2021.
Refer and Win!
Do you know someone who dreams to be an author but can't write? Help them make it possible and be rewarded by us. Tell someone about our ghostwriting service today and get a bonus!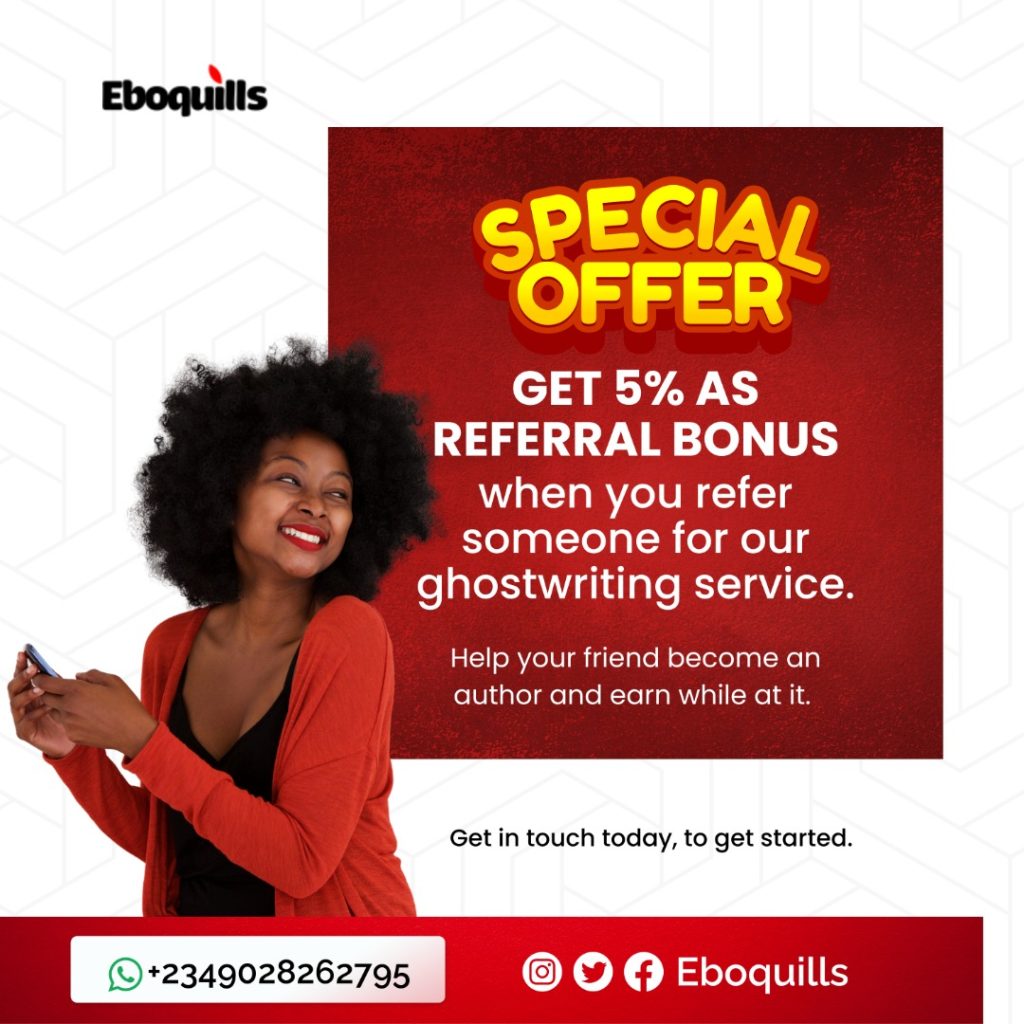 Eboquills
EBOquills is a literary platform, which aside from promoting African Literature, seeks to be a clinic for creatives and a spa for stressed and distressed artists. We want to take hundreds of writers from the shadows and place them in the spotlight. Send us your best writings and pressing questions. Check out the services we offer, we look forward to working with you on your next writing project.
Related posts