Eboquills
EBOquills is a literary platform, which aside from promoting African Literature, seeks to be a clinic for creatives and a spa for stressed and distressed artists. We want to take hundreds of writers from the shadows and place them in the spotlight. Send us your best writings and pressing questions. Check out the services we offer, we look forward to working with you on your next writing project.
Flickering rays and a beam
Chi is wedged between a wooden table and a leather chair close to the window of her self-con apartment, down the ever-quiet Engineer Kitchener's Street. Raymond, her boyfriend was keen on getting her an apartment on this street because he knew the serenity would mean…
Death is not another color of light
Do not tell me that death is an anaerobic sleep, And like the whale which swallowed Jonah, It'd spew my son at the tideless shore of bliss, Just to muffle my mournful wail! If you must, let your coffin first sail on a sea of…
The door creaked again, last night
like the night before, i crawled under our bed, from where i watched them; cut my brother's arms, smash my father's testicles, plant iron seeds in mama's thighs & left me a glass of fresh milk. — that night, death was with me & he…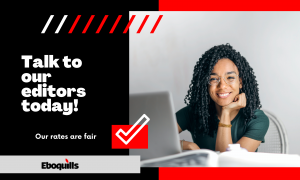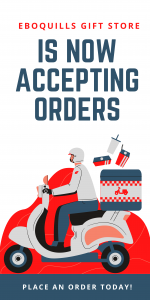 Facebook
Eboquills
Helping writers achieve their writing goals

Let us be your plug for any form of writing, editing and writing consultancy.
Twitter
Issue 5 is LIVE! Guest editors: @malingose, @WillieKinardIII & @postcolonialchi. Cover: Alex & Frans Odicky. Illustrations: @cocoette_. Stories, poems, essays & photos from Kenya, Nigeria, Trinidad & Tobago, Ghana, Sudan, St. Lucia, Zimbabwe, & more
http://lolwe.org/issue-5/
my poem "A Travelogue: The Grief & Ruins Outside our Walls" is now published on Eboquills. @eboquills

click link to read full poem 🖤🥂https://eboquills.com/2022/05/20/one-poem-by-olowo-qudus/
Check out this list of #opportunities for #writers (see link). The #deadlines are in May 2022, so roll up your sleeves and get to work.

Best wishes! https://eboquills.com/2022/05/07/opportunities-for-writers-with-deadline-in-may-2022/
Load More