One Poem By Nigerian Poet, Ojo Emmanuel

Eboquills, 2 months ago
0
2 min

read
170
Epitaphs are front pages of the real story
What hurts you the most?
The love you had but never expressed,
like a closed bestseller not opened until burnt
– A bird never out of its nest.
Or the nostalgia of sweet moments you've had,
like tales of moonlight robbed by age
Banished into marriage, a way no compass constructed
Fried to nothing by time, season and weather.
Waking up every morning to see the unseen with you
– You are now alone…the warmth that makes you warm
cold beyond ice-
Or the pain from the scar, knowing fully well
a chapter has come to an end untimely.
A chapter without words
What chokes you the most?
The words left unsaid or the acts buried
within the act of your apostolic temples.
Unspoken, trapped in the throat…deprived.
You had your voice, yet silence was your outburst.
Marriage was never the answer..no, not ever.
I was the angel you made me.
What's left of a broken pot abandoned by the potter.
To be inherited by another short-lived owner.
What KILLS the most?
The joy in the protruded belly plucked in morn by the present
A joy that didn't quench the thirst
What blinds the seer more than his own errors?
A lantern blind to its feet.
Broken beyond repair
Loved yet not loved, seen but out of sights.
Slashed beyond the miracles of stitches
What kills our joy the most is within?
those outside are torches to bleeding gasoline.
I wish you felt the warmth buried in the ice
Maybe that was the oxygen you needed on the bed
that inhaled your breathe
Losing myself to find me again
If all lost coins would be found again on the other side
Why am I afraid I can't replace you?
Mystery of mother
Boys don't cry, boys have eyes that don't shed tears.
Contributor's Bio
Ojo Emmanuel is a law student and writer from EKITI state. His works have featured/upcoming on African Review and other literary platforms. He writes to tell the untold stories of humanity

Eboquills
EBOquills is a literary platform, which aside from promoting African Literature, seeks to be a clinic for creatives and a spa for stressed and distressed artists. We want to take hundreds of writers from the shadows and place them in the spotlight. Send us your best writings and pressing questions. Check out the services we offer, we look forward to working with you on your next writing project.
Related posts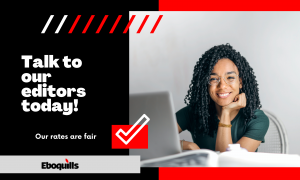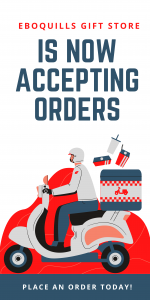 Facebook
What Is The Difference Between a Cover Letter and a Bio?
Preparing your work for submission to literary journals is sometimes scarier than the process of crafting those pieces of art. You are first faced with the challenge of selecting your best work ever from a pile of poems, if it is a poetry submission. Or you have to read, re-write and re-read your prose work before you send it out. Then almost immediately you have sufficiently edited your work, you are required to write a cover letter or/and a bio. What is the difference between a cover letter and a bio?
In this article, you will learn:
* Why writers write bios and cover letters
* What the difference between a bio and a cover letter is
* Examples of both and how to write each
eboquills.com/2020/05/27/what-is-the-difference-between-a-cover-letter-and-a-bio/
...

See More

See Less
Twitter
Our Writer Crush this Wednesday is Chidera Ihekereleome-Okorie!

She recently won first place in the Nigerian NewsDirect @NigNewsDirect Poetry Prize, 2020 and was appointed Poet Laureate

Congratulations to the amiable poet!

#WCW #WritingCommnunity #poets #writers #eboquills
"This body you see
was once a guesthouse to pain..."

Self- Portrait as a Body By Joshua Effiong

Ever had a poem touch your soul in all the right places? Read this poem by @JoshEffiong
https://eboquills.com/2021/04/13/one-poem-by-joshua-effiong/

#poetry #WritingCommunity #poem #eboquills
Have you been looking for opportunities to showcase your writing? We curated some free-to-enter #writing #contests you could enter this month of April!

https://eboquills.com/2021/04/03/writing-prizes-contests-to-enter-this-april/

#eboquills #aprildeadlines #WritingLife #WritingCommunity #writingcontest
Load More...